Get all the information and key points on National Education Policy 2020.NEP 2020 is very important for Ctet and other teaching exams.
National Education Policy 2020
NEP-2020: The National Education Policy 2020 is the first education policy of the 21st century and aims to address the many growing developmental imperatives of our country. It was drafted by Ex ISRO Chairman Mr.Kasturirangan.
The policy splits the current 10+2 school system into a new 5+3+3+4 system based on curriculum and pedagogy for all children in the age group of 3 to 18 years.
The earlier national education policy caters the students age group from 6 to 18 but NEP 2020 is for students age group 3 to 18.
Objective of NEP-2020
The objective of NEP 2020 is to produce productive and contributing citizens for nation-building. It focuses on recognizing and fostering the unique capability of each student. Its principles are as follows-
Recognizing, identifying, and fostering the unique capabilities of each student (promote holistic development).
Giving the highest priority to foundational literacy and numeracy till class/grade 3.
Development of multidisciplinary and holistic education.
Emphasis on conceptual understanding rather than rote learning.
To encourage creative and logical thinking.
Promotes multilingualism and mothertounge.
Extensive Use of technology in teaching and learning.
use of formative assessment.
New Structure of School Curriculum and Pedagogy
The curriculum and pedagogic structure of school education will be restructured according to different stages of age 3-8, 8-11, 11-14 and 14-18 to take into account the needs of the students. The curriculum framework 5+3+3+4 design will be divided as follows –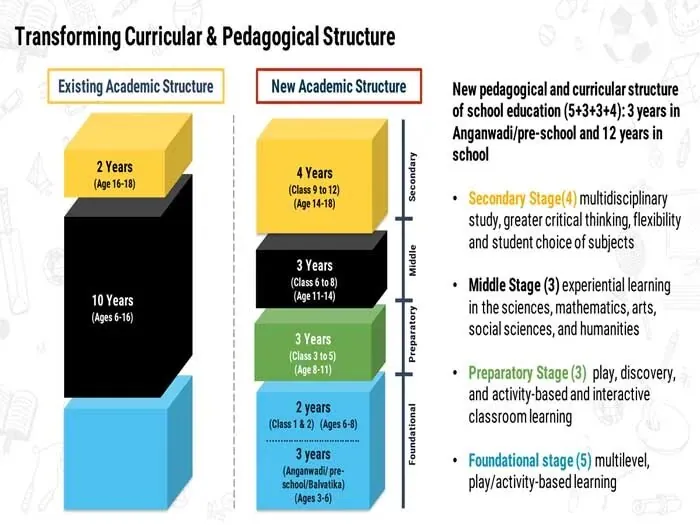 Foundational Stage – 3 years of Anganwadi/pre-school +2 years in primary school in Grades 1-2; both together covering ages 3-8.
Preparatory Stage – Grades 3-5, covering ages 8-11.
Middle Stage – Grades 6-8, covering ages 11-14.
Secondary Stage – Grades 9-12 in two phases, i.e., 9 and 10 in the first and 11 and 12 in the second, covering ages 14-18.